Current status of the IEEE 802.11 Task Groups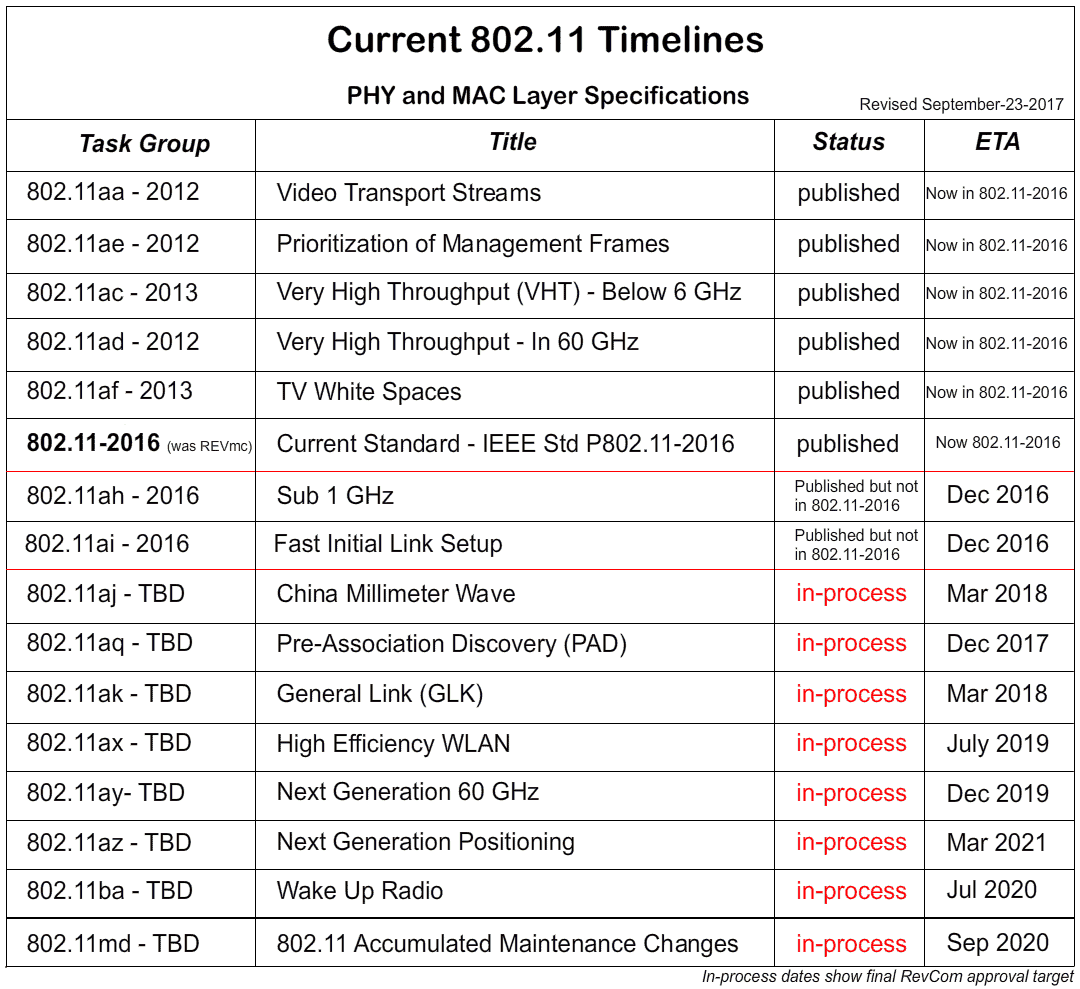 Current Status of the IEEE 802.11 Task Groups
(- reprint -)
The current roll-up of the 802.11 standard, IEEE Std P802.11-20176 was published in December 2016.   This update to the 802.11-2012 standard now adds two new Physical and MAC layer specifications and three, mostly, MAC layer extensions to the standard.
First the PHYs
802.11ac is the most anticipated improvement in this round of amendments because it adds much faster data rates to existing 5 GHz Wi-Fi through the use of 80 MHz and 160 MHz channel bonding, 256QAM modulation, standardized beam forming, and multi-user MIMO (MU-MIMO) features.  This amendment has been covered in great detail previously and as such will not be further documented in this series of articles.
802.11ad – Very High Throughput 60 GHz.
This amendment defines modifications to both the 802.11 physical layers (PHY) and the 802.11 Medium Access Control Layer (MAC) to enable operation in frequencies around 60 GHz and capable of very high throughput.  This amendment is specified for the U.S. in FCC Report and Order FCC-13-112A1_Rcd.  It has also been certified by the Wi-Fi Alliance as Wi-Fi CERTIFIED WiGig.
802.11af – TV White Spaces from 54 – 806 MHz
This amendment defines enhancements to the 802.11 PHYs and MAC to support operation in the unused TV bands white spaces.  This amendment is sanctioned in the U.S. by FCC Report and Order FCC-12-36A1.
Now the MACs
802.11aa – MAC Enhancements for Robust Audio Video Streaming
This amendment specifies enhancements to the 802.11 MAC (Medium Access Control) for robust audio video streaming, while maintaining co-existence with other types of traffic.
802.11ae – Prioritization of Management Frames
This amendment provides a mechanism for prioritization of management frames and specifies a protocol to communicate management frame prioritization policy.
Two that missed…
Two additional amendments, one PHY and one MAC, were ratified and published in December of 2016 but were too late to be included in the 802.11-2016 roll-up.  These were 802.11ah and 802.11ai.  Even though these are not included in the current master document they are part of the 802.11 standard.
 802.11ah-2016 – Sub 1 GHz for 900 MHz ISM
This amendment defines modifications to both the IEEE 802.11 physical layer (PHY) and the medium access control (MAC) sublayer to enable operation of license-exempt 802.11 wireless networks in frequency bands below 1 GHz excluding the TV White Space bands, with a transmission range up to 1 km and a minimum data rate of at least 100 Kb/s.  In the U.S. this translates to the 900 MHz ISM frequency range and is certified by the Wi-Fi Alliance as Wi-Fi HaLow.
802.11ai-2016 – Fast Initial Link Setup
This amendment defines mechanisms that provide IEEE Std 802.11 networks with fast
initial link setup methods that do not degrade the security offered by Robust Security Network
Association (RSNA) already defined in IEEE Std 802.11.
Since these amendments are now part of the overall standard they may have an effect on enterprise WLAN designs and deployments.  In upcoming issues we will continue to explore each of these amendments to the current 802.11 standard.  See the September, 2017 issue of the WLA Broadcast for a deeper look at 802.11ad and the Wi-Fi Alliance certification "Wi-Fi Certified WiGig".