IEEE Std 802.11-2016 now available for free download
The latest roll-up of the 802.11 standard is now available for download, free of charge at: http://standards.ieee.org/findstds/standard/802.11-2016.html . This version replaces 802.11-2012 and includes all of the amendments published between 2011-11-11 and 2016-09-01. Those were:
802.11aa-2012 – Video Transport Streams
802.11ae-2012 – Prioritization of Management Frames
802.11ac-2013 – Very High Throughput 6 GHz
802.11ad-2012 – Very High Throughput 60 GHz
802.11af-2013 – TV White Spaces
These and other changes have resulted in a reshuffling of the 802.11 Standard chapters (called clauses) in a way that may lead to some confusion to those who study and discuss the 802.11 standard.
The job of maintaining and updating the master 802.11 standards document is undertaken by Task Group "m" (TGm). The accumulated maintenance changes that comprise 802.11-2016 were performed by Task Group "m", during period "c" (TGmc). This work has resulted in a renumbering of clauses, as they appear in the IEEE Std 802.11TM-2016* document and its Table of Contents.
*
IEEE Std 802.11TM-2016 is the correct name for the current 802.11 standard document although it may appear here as 802.11-2016 for brevity.
IEEE Std 802.11TM-2012 is the correct name for the previous 802.11 standard document although it may appear here as 802.11-2012 for brevity.
Clauses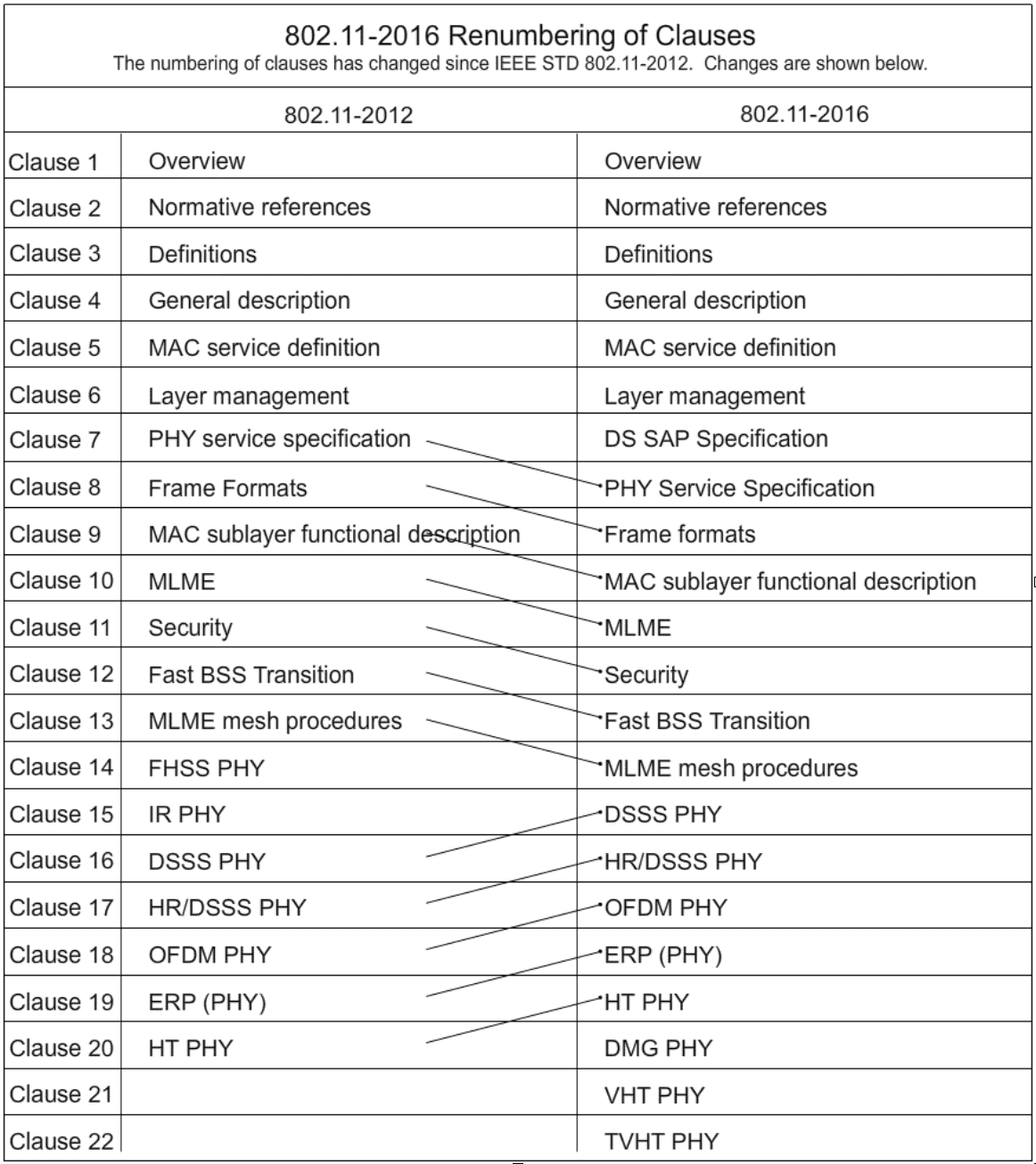 Figure 1 – Comparison of IEEE 802.11-2012 and IEEE 802.11-2016 Clauses
The chart shown is a comparison of the 802.11-2012 and 802.11-2016 Tables of Contents. You can see that the order of clause titles in both documents remains the same until Clause 7. In the 2012 version Clause 7 was the PHY service specification, but in 802.11-2016, a new DS SAP specification has been inserted. This DS SAP spec was also present in a previous form in 802.11-2012, but it was contained in the appendices, as Appendix R.
The result of adding the DS SAP specification to the clause list in 802.11-2016 pushes the remaining order ahead, by one, for Clauses 8 – 14, in comparison to 802.11-2012.
The next change to the clause line-up in 802.11-2016 appears at Clause 15. The two legacy PHY specifications for Frequency Hopping Spread Spectrum (FHSS) PHY (Clause 14) and the 802.11-based Infrared (IR) PHY (Clause 15) have now been deleted from the document. By removing the former 802.11-2012 Clauses 14 and 15, the remaining legacy PHY specification, Direct Sequence Spread Spectrum (DSSS) PHY is moved up the list to take its new spot as 802.11-2016 Clause 15. This has the effect of dropping all the remaining PHY specifications back in the order by one. The following list shows the new order of PHY clauses that were carried over from 802.11-2012
802.11-2012, Clause 16 – DSSS, is now Clause 15
802.11-2012, Clause 17 – HR/DSSS, is now Clause 16
802.11-2012, Clause 18 – OFDM, is now Clause 17
802.11-2012, Clause 19 – HT, is now Clause 18
The addition of three new PHY layer amendments to the 802.11-2016 document fills out the changes to the Table of Contents in this new document.
The amendment produced by Task Group "ad" (TGad) which is also referred to as 802.11ad-2012 Very High Throughput in 60 GHz has been inserted as Clause 20 – Directional multi-gigabit (DMG).
The work completed by Task Group "ac" (TGac), also known as 802.11ac-2013 Very High Throughput below 6 GHz is now located in the standard as Clause 21 Very High Throughput (VHT).
And finally, the result of the efforts made by the 802.11 Working Group committee labeled as Task Group "af" (abc) created the amendment known as 802.11af-2016 Sub 1 GHz. This amendment was assimilated into the standard as Clause 22 – Television Very High Throughput (TVHT).
Annexes
In addition to reordering the major clauses of 802.11-2016, there have also been significant changes to the listings of included appendices, called Annexes. Annexes A – H, known as Normative Annexes remain in the same order for 802.11-2016 as they held in 802.11-2012, but the three 802.11-2012 Annexes I – K have been removed in the 802.11-2016 version. This effects the order such that 802.11-2012 Annexes L – W have taken their new places as Informative Annexes I – S, in 802.11-2016.
The additional non-PHY specific amendments such as 802.11aa, 802.11ae, and 802.11ai are not given standalone clauses but instead are found interleaved throughout the other clauses and annexes. The best way to identify these changes is to search the individual sections of the amendment within the paragraphs of the current published standard.