Chapter 3: What's Next, After AX?
That snappy new hybrid we call 802.11ax hasn't even left its garage yet and already the 802.11 Working Group is planning a replacement model.  In this chapter of "Future-Fi" we'll look at the current Task Groups, Study Groups, and one Topic Interest Group that are actively working towards the next, next generation of Wi-Fi.
The current 802.11 Project Timeline chart below shows all current 802.11 Task Group (TG) activity.  Each of these TGs has a part to play in building the future of Wi-Fi.  But, let's start by taking a look at 802.11md to understand how the next roll-in of Wi-Fi will happen.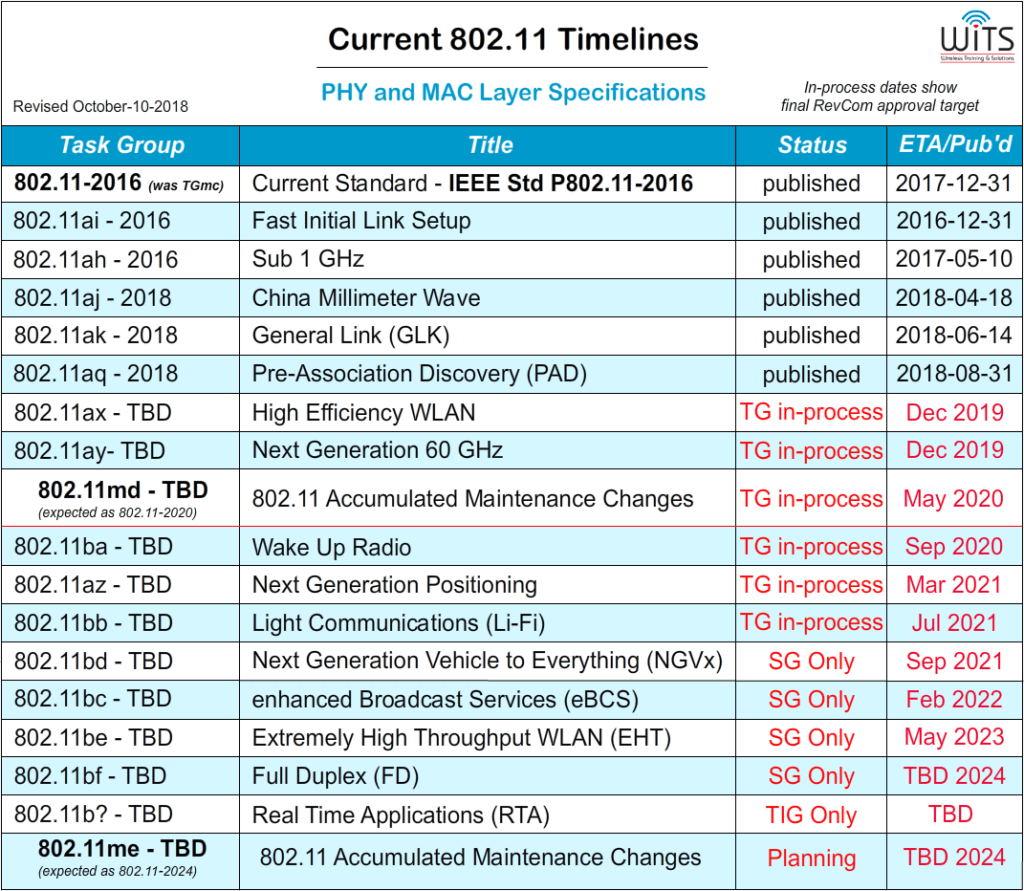 Expected Release Dates of Current 802.11 Projects
TGm, the maintenance committee
802.11md is the Task Group responsible for rolling-in all the ratified changes since the previous accumulation.  The last project was titled, TGmc (aka REVmc) and the result of its efforts was published as 802.11-2016.  Before that, TGmc had replaced TGmb (REVmb) which was the committee that had produced 802.11-2012.  And before that, TGmb had replaced TGma (REVma) which created the 802.11-2007 standard.
So, when should we expect to see the completion of TGmd? The current timeline calls for TGmd to complete its work and submit it to RevCom in May 2020.  However, before that, TGmd must be approved by Sponsor Ballot in November, 2019.  Then it can submit its body of work to the 802.11 WG for final approval in Mar 2020.  In order for any currently active TGs to be included in the 802.11-2020 roll-in, they'll need to have received final RevCom approval by about November, 2019.
At that time all amendments that have been ratified since 802.11-2016 closed-out will be interleaved into the next revision of the standard.  So, we can expect to see 802.11ai, 802.11ah, 802.11aj, 802.11ak, 802.11aq, 802.11ax, and 802.11ay included in 802.11-2020.
In The Pipeline
Meanwhile new features are constantly being requested and developed.  If you look on the chart above and beneath the red line you'll see the additional committees that are active.
There are three new TGs at work, that aren't expected to be completed in time for the 802.11-2020 roll-in.  They are:
TGaz – Next Generation Positioning
TGba – Wake-Up Radio
TGbb – Light Communications
In addition there are four new Study Groups (SG) working to finish their PAR and CSD.  These four, Next Generation Vehicle to Everything (NGVx), enhanced Broadcast Service (eBCS), Extremely High Throughput (EHT), and Full Duplex (FD) are expected to achieve TG status soon and will probably be assigned the  Task Group names shown:
TGbc – eBCS
TGbd – NGVx
TGbe – EHT
TGbf – FD
Finally, there is currently one Topic Interest Group (TIG) preparing to apply for Study Group status.  That is Real Time Applications (RTA) TIG.  Assuming RTA makes it to Task Group level we'd expect to see it designated as TGbg.
Isn't 802.11ax Enough?
You may wonder why it's necessary to keep adding to and changing the 802.11 standard, especially when the next major amendment, 802.11ax, hasn't even been finished.  That's because we know Wi-Fi usage is increasing faster than we can make improvements.  One axiom that has been proven true continually since the earliest days of data communications, is that end users will use all the bandwidth they're given and still need more.  And 802.11 is no longer the only choice for wireless local area networking.  The next generation United Nations wireless standard being developed now will be a direct competitor to Wi-Fi for spectrum, bandwidth, and popularity.  Constant evolution is the only defense in our changing ecosystem.
As Always, Exponential Growth is Expected
But the difference is that we already have enormous numbers of users and amounts of congestion.  Continuation of 2x growth from where we are now could result in network paralysis if we don't have new techniques ready to deploy by the time they're needed.
A recent study by Cisco corroborates this statement:
Wi-Fi traffic will account for almost half of total IP traffic by 2020
63% of traffic from mobile devices will be offloaded to Wi-Fi or small-cell networks by 2021
Demand for higher-throughput/capacity Wi-Fi is growing
[1]
802.11ax Capabilities
The addition of 802.11ax to the functionality of Wi-Fi will provide dramatic increases to the overall efficiency of WLANs, especially in multi-user and high density environments.  And the welcome expansion into 6 GHz bands will provide relief from congestion and co-channel interference if used properly.  But even with these capabilities Wi-Fi must start preparing for a list of new data intensive, latency sensitive, real-time types of applications which were not imaginable before high speed Wi-Fi was developed.  These applications will leverage Ultra-High Definition Video (4k/8k) and Virtual Reality (VR/AR) systems, massive machine intelligence through very low latency IoT processes, as well as the need to support crushing numbers of new unlicensed-band wireless devices.
Part of the coming problem lies is that 802.11ax was not intended to significantly expand the PHY data rate, but rather to provide better WLAN efficiency.  The chart below shows that 802.11ax will be the first major PHY enhancement that does provide at least a 5x improvement to the PHY data rate over the previous 802.11 enhancement.  In order to prepare for that which is coming, the 802.11 Working Group (WG11) has created a new Study Group to explore the needs and solutions for our next generation of Wi-Fi users.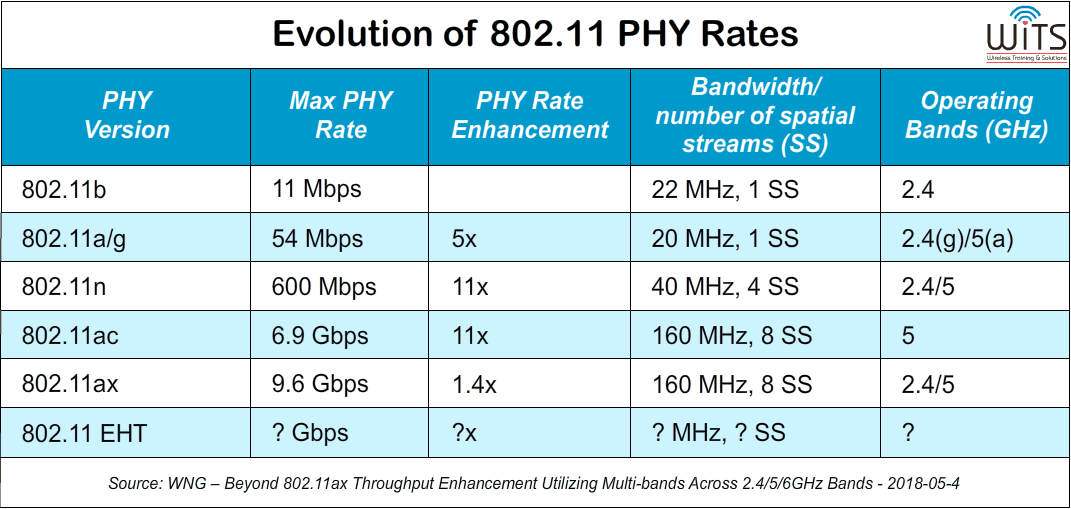 11b – 802.11ac: Peak PHY rate of each 802.11 amendment increased by 5x or 11x
11ax: peak PHY rate increased just 1.4x compared to 802.11ac
 "To meet the demand of expected Wi-Fi traffic growth, the peak PHY rate needs to be increased"
EHT SG
During the July 2018 IEEE 802 Plenary meeting in San Diego, a new Study Group named, Extremely High Throughput Study Group (EHT SG) was approved and began deliberations.  The goals of the EHT SG are to develop a Project Authorization Request (PAR) and a Criteria for Standards Development (CSD) to qualify for a new Task Group with a target start of May 2019".  If successful, I'd expect this Task Group to be designated as TGbe, with an estimated completion date (passes RevCom) of 2023.  A recent call for global "stakeholder participation" was worded as follows:
"The IEEE Extremely High Throughput Study Group has been established to initiate discussion on new IEEE 802.11 features for bands between 1 GHz and 7.125 GHz.  The group is identifying requirements for a possible amendment to IEEE 802.11 that would increase peak throughput to support demanding applications such as video over wireless local area networks (WLAN), augmented reality (AR) and virtual reality (VR).
"We are seeking stakeholders throughout IEEE 802.11 ecosystem to share their experiences with the standard and needs for features such as more spatial streams, higher bandwidth, multi-AP (access point) techniques, and multiband switching, aggregation and operation," said Michael Montemurro, chair of the 802.11 Extremely High Throughput Study group.  "We envision a rapidly paced effort over the next six to nine months, which we hope will bring into clear definition the most important requirements to be addressed in accelerated development of a possible future amendment to the IEEE 802.11 base standard". "
The EHT SG has already been hard at work defining the needs of our future.  In order to attempt to meet the user densities and extreme data throughput requirements of emerging wireless-enabled applications the following cutting edge technologies have been identified for further investigation and review.
Caveat
This is only a preliminary view of some of the most promising candidate technologies for EHT.  The technologies and solutions shown here may change drastically or be dropped completely before the completion of the EHT project.
Mandatory 6 GHz Support

Above all customers want reliability and more client devices per AP
Mandatory 6 GHz support will be the most impactful feature

When 802.11ac was made a 5 GHz-only standard it ushered in widespread adoption of 5 GHz following 10 years of laggardly 5 GHz adoption
EHT should do the same thing for 6 GHz to help it proliferate quickly
[2]
Full Duplex

Interest has been shown in multi-channel Full Duplex operations for EHT. One way to implement this feature is through Multi Channel Frequency Division Duplex (FDD) mode.  It is expected that there will be broad deployments of dual-band (and tri-band) radio EHT devices.  Multi-Channel FDD allows different channels operated on the same device to be allocated for Tx and Rx at the same time.

Key benefits:

Efficiency improvements
Security enhancement

Another promising form of full duplex mode would allow the Wi-Fi STA to Tx & Rx at the same time on the same channel, at the same time. Several candidate technologies have been proven to work this way on other data communications platforms (i.e., DOCSIS).  A leading contender for this feature over Wi-Fi is known as Self Interference Cancelling (SIC) technology.
[3]
AP Collaboration (Coordination)

AP coordination has been suggested in several EHT SG contributions with the goals of improving throughput. AP coordination would be a major differentiating feature with EHT over 802.11ax.  AP coordination comes in several forms.   AP Coordination technologies can be classified into two types:

MAC coordination

APs exchange MAC-level control information
Candidate technologies:

Transmission Coordination
Non-coherent Joint Transmission
Handover Coordination
Interference Nulling

PHY coordination

APs share data as well as control information

Candidate technology: Distributed MIMO
[4]
Larger Bandwidth

20MHz/40MHz/80MHz/160MHz/320MHz in 6GHz band
When 802.11ac added 160MHz-wide channel support, it anticipated access to 5.35 – 5.47 GHz and 5.875 – 5.925 GHz, yielding 775 MHz of contiguous spectrum. But that didn't happen.
Now with the addition of "clean sheet" 6 GHz as a third band there is room for 7 new 160MHz-wide channels or even 3 320MHz-wide and another 160 MHz-wide channel
 [5]
More Spatial Streams (SS)

Support for up to 16 SS

Vendors progressively add antennas to APs at a regular cadence
There continues to be a range of products and the highest number of antennas are found only on the premium products.
Based on historical patterns, 16SS would likely appear in 2024 technology
Since there are not likely to be any 4+SS clients, UL/DL MU-MIMO support on AP would be logical
16SS could be optional for an EHT AP
[6]
Multiband Operations

Classic concurrent multi-band BSSs – Tri-band

Standalone BSS at 2.4 GHz
Standalone BSS at 5 GHz
Standalone BSS at 6 GHz

No increase in peak data rate

Contiguous Double-Headed AP – Tri-band

Standalone BSS at 2.4 GHz
Standalone 40/80 BSS at 5 GHz
Standalone 80/160 BSS at 6 GHz
Beacons sent on each band with dual primaries

Legacy STAs use the 5 GHz primary
EHT STAs steered to 6 GHZ primary
STAs needing highest QoS steered to 6 GHz primary

Full Duplex over Multi-Band – Tri-band

Same as double-headed AP but now the AP and some client STAs support non-contiguous Frequency Division Duplex
Standalone BSS at 2.4 GHz
FDD BSS at 5/6 GHz with independent contention at 5/6 GHz
FDD BSS at 5/6 GHz with independent contention at 5/6 GHz
[7]
New Modulation/Coding Schemes

4096 QAM (optional)

Continues the trend of introducing new modulation levels with each Wi-Fi generation;

64QAM-> 11n
256QAM-> 11ac
1024QAM-> 11ax
4096QAM-> EHT

4096 QAM would only be applied if beamforming (BF) is used;

No new EVM requirement for 4096 QAM;

BF gain compensates EVM gap (-35dB instead of -42dB);

Expect more BF gain as long as more antennas are deployed.
[8]
HARQ

Hybrid Automatic Repeat Request (HARQ) is a mechanism that's widely used in wireless/cellular technologies to improve link quality. HARQ uses soft-bits (Log Likelihood Ratio (LLR)) respective to past and current transmissions which are combined in order to increase the probability of correctly decoding transmissions.  The receiver stores LLRs of incorrectly decoded transmissions, indicates to the transmitter which transmissions failed, and the transmitter responds by retransmission.  Like MRC, HARQ can deliver combining and diversity gain improvements.
HARQ is a proven technology, used in other unlicensed band wireless standards
HARQ can be used in any scenario/configuration – regardless of the number of Tx or Rx antennas, MIMO mode, BW, etc.
The performance improvements associated with HARQ can be used to significantly enhance the link adaptation mechanism in 802.11
[9]
Enhanced Spatial Use

SOMA – Semi-Orthogonal Multiple Access

SOMA uses Superposition transmission with adaptive power ratio on component constellations and Gray-mapped superposed constellation. It is not just a superposition of multiple component constellations, but artificially designed to make the superposed constellation to be gray-mapped so that the Interference Cancellation doesn't have to be necessary at the Near STA. This allows the Receiver to be less complex.  Data comes from multiple STAs to form a constellation in the TX side.  Only the LLRs corresponding to the receiver will be retrieved in the STA side.
SOMA would require only small changes to current 802.11 transceivers
SOMA technology is mature and is a part of 3GPP LTE Advanced technologies
[10]
Mapping Emerging Applications to Focus Areas
The EHT SG has identified three main next generation application types which are emerging and will make the new EHT PHY a necessity.  The following chart shows these three application types and the general areas of performance improvement required by each.

EHT Mapping Applications to Focus Areas and Candidate Technologies
PHY Link Throughput
AP Throughput
Reliable Transmission
Network Efficiency
Power Efficiency
Latency
[11]
What part of this is realistic?
There are a large number of features being considered for the next revision of 802.11 following 802.11ax.  At this early stage it's difficult to predict which of these features will actually make it into the 2024 version of Wi-Fi.  The following chart shows a history of 802.11 and Wi-Fi Alliance features over the course of the previous four 802.11 versions with a breakout of the supported features for each version.  The features are divided into two columns to show which features were required to be provided by the hardware manufacturers in order to achieve Wi-Fi Alliance certification and which ones were considered optional.  Notice how previously optional features become mandatory in subsequent release.  The final rows of the chart show an early snapshot of 802.11 EHT features, and whether they will be considered optional or mandatory.  This is a preliminary attempt by the EHT Study Group to catalog new features by the level of importance and likelihood.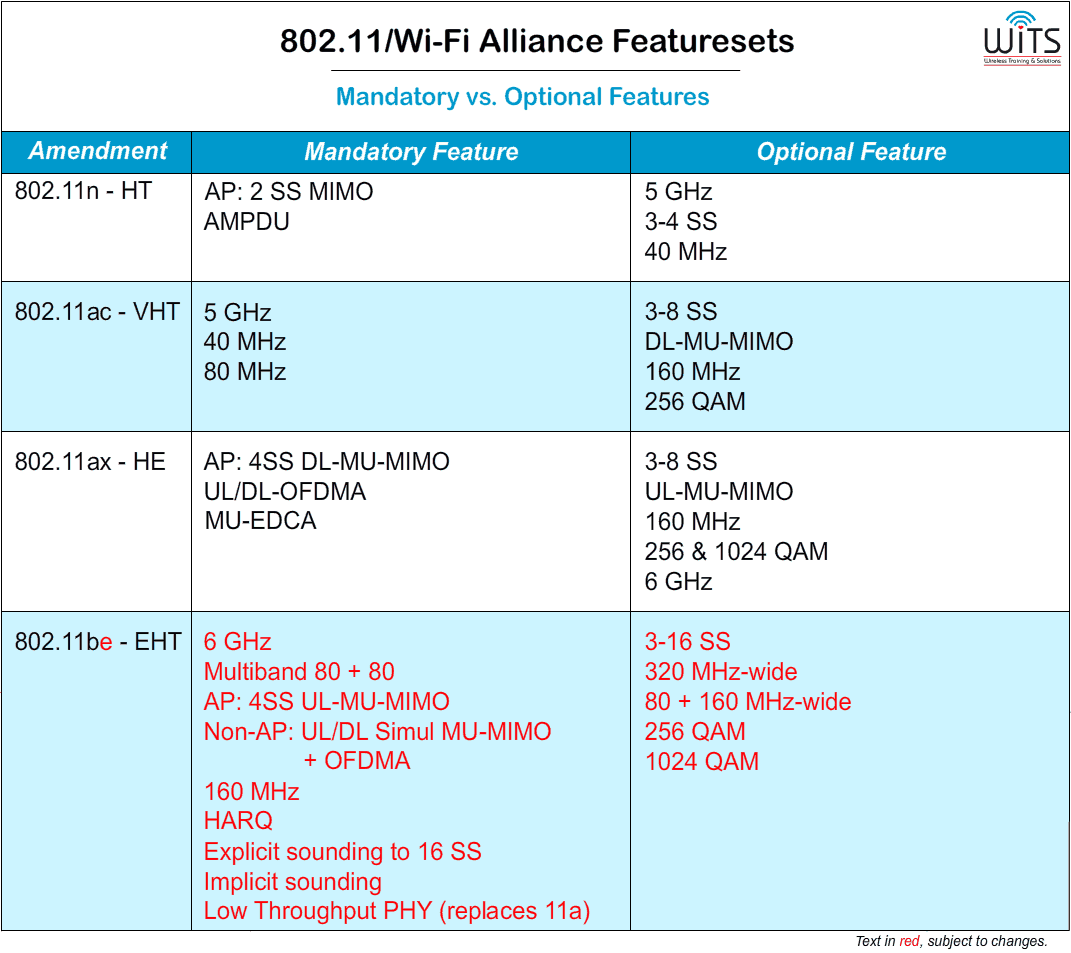 History of Mandatory and Optional Wi-Fi Features
[12]
Working for the future?
The future is not that far away.  In order to give Wi-Fi its best chance for survival, it's important that it continue to evolve to be able to support the services and applications that are emerging now.  The EHT SG will be looking for candidate technologies that can boost the PHY rate of Wi-Fi by at least 4x in the next revision.  We'll be watching to see which of these make it into the final draft.
Next Chapter
In this chapter of Future-Fi we looked under the hood of the 802.11 Working Group community and reported on the new Extremely High Throughput Study Group's efforts with a preview of new technologies to come.  In the next chapter we'll look at how 802.11 is being tailored to fit into the IMT-2020 paradigm known popularly as "5G".  Chapter 4 will mark the final, scheduled installment for the Future-Fi series, although periodic updates are expected to be posted as these new technologies begin to mature.  Watch for Future-Fi – Chapter 4 – "802.11 is a RAT".
References
[1] Cisco VNI Mobile 2017
[2] Recommended Direction for EHT – Sep 2018 – 18/1549r0
[3] 802.11 Full Duplex – Jan 2018 – 18/0191r1
[4] Considerations on AP Coordination – Sep 2018 – 18/1576-01-0eht
[5] Extreme Throughput (XT) 802.11  – May 2018 – 18/0789r10
[6] 16 Spatial Stream Support in Next Generation WLAN – May 2018 – 18/0818r3
[7] EHT Features for Multi-band Operation – Sep 2018 – 18/1525r1
[8] Discussions on the PHY Features for EHT – Sep 2018 – 18/1461r1
[9] HARQ for EHT – Sep 2018 -18/1587r0
[10] SOMA for EHT – Sep 2018 – 18/1462r0
[11] Next Generation PHY/MAC in Sub-7GHz – May 2018 – 18/0846r2
[12] Recommended Direction for EHT – Sep 2018 – 18/1549r0